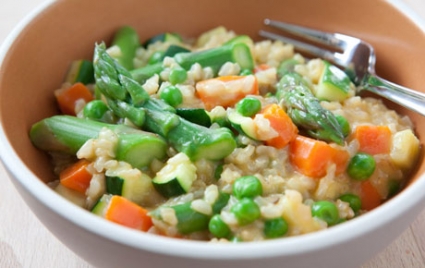 16 Apr

Springtime Brown Rice Risotto

This creamy and fresh dish uses no butter, cheese or oil, yet still has the texture and flavor you're used to when it comes to risotto.

Ingredients:

1 pound asparagus, trimmed and cut into 1-inch pieces

2 carrots, trimmed and chopped

1/2 cup fresh or frozen and thawed peas

1 bunch scallions, chopped

1 Tbs. + 8 cups low-sodium vegetable broth, divided

2 cups short-grain brown rice

1 Tbs. fresh lemon juice

3 Tbs. nutritional yeast

High-quality sea salt, to taste

Freshly ground black pepper, to taste

Directions:
Cook the asparagus in a steamer until softened, about 6-7 minutes.
In a separate saucepan, bring the 8 cups of vegetable broth to a boil, then reduce immediately to a simmer.
Meanwhile, heat 1 Tbs. vegetable broth in a large saucepan, and begin to cook the scallions. Add the brown rice, and cook over medium heat for 2 minutes, stirring constantly.
Add the lemon juice to the rice, and stir until it is absorbed.
Add 2 cups of the broth mixture to the rice and green onion mixture, stirring constantly until the liquid is absorbed. Continue adding the broth, one ladle at a time, to the mixture, and keep stirring.
Add carrots and continue process with broth-water mixture.
When the liquid is mostly absorbed and the rice is tender but still firm, remove from heat. This takes about 40-45 minutes or longer, depending on the exact variety of brown rice you are using.
Stir in the steamed asparagus and peas. Add the nutritional yeas, sea salt and black pepper to suit your taste and serve.